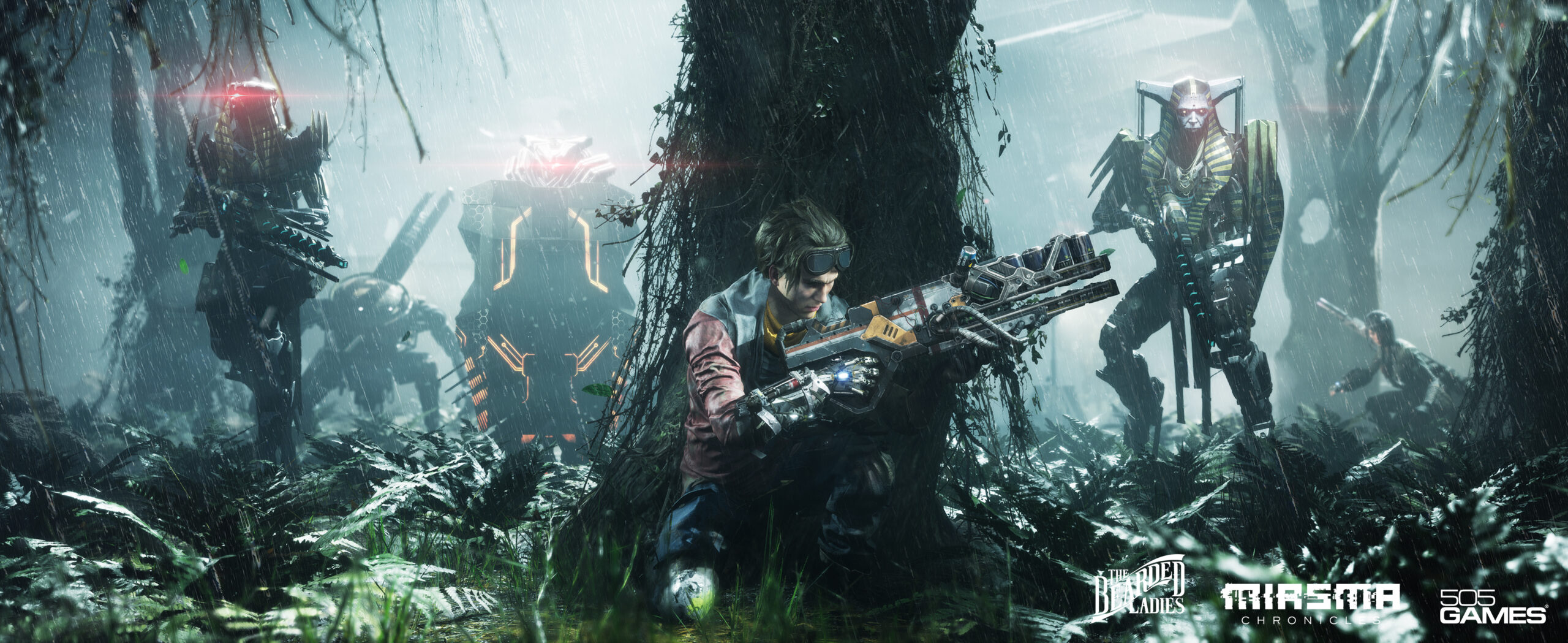 Hey everyone. James here and welcome back to Inside Miasma Chronicles. Our little part of the internet where we showcase things you may have missed about the upcoming Miasma Chronicles.
Welcome to May – LAUNCH MONTH.
Firstly, I'd like to apologise for the 2-in-1 update today. As you can see, both March and April have been extraordinarily busy months here, making sure that Miasma Chronicles is ready to go.
Look at what you may have missed this Mach & April below. Don't forget to follow Miasma Chronicles across all your favourite social channels, so you don't miss out
RELEASE DATE – May 23rd 2023
Miasma Chronicles will be available from May 23rd 2023.
Miasma Chronicles will be available digitally across all platforms from May 23rd, 2023.
But that's not all… Miasma Chronicles will also be getting a physical edition, including art book and two skins for Elvis and Diggs – Elvis' Mine Technician Suit and Diggs' Mine Rescue Shell. The physical edition will be available at your favourite retailers in Europe from June 9th and North America from June 20th.
FAQs
You've got questions; we've got answers!
Check out the FAQs here.
In April, we published our Frequently Asked Questions for Miasma Chronicles, covering everything from "What is Miasma Chronicles?", "Why Turn Based?" and minimum specifications for PC users. If you've got any questions about Miasma Chronicles, you'll probably find the answers here. If not, let us know and I'll get back to you.
MIASMA CHRONICLES EARLY LOOK | 505 GAMES PLAYS
This April. We begin our EARLY LOOK series over on twitch.tv/505Games
Beginning this April and continuing up until Launch, I shall be streaming Miasma Chronicles live on the 505 Games Twitch channel with additional guests – The Bearded Ladies & members of the 505 Games team. We'll be chatting about the game's development, how Miasma Chronicles came to be and why you should be excited.
Of course, for those who wish to avoid spoilers, you can catch the VOD later on the 505 Games YouTube channel.
WORLD BUILDING & SCREENSHOTS
Check out some brand-new screenshots and some images you may find scattered around the world of Miasma Chronicles below.
We have loads more to share with you in the coming months – including more dev Q&As, so keep those notifications on 🔔
–
Follow the Official Miasma Chronicles social channels for all the up-to-date news and sneak peeks into a world devastated by Miasma.
Facebook – facebook.com/MiasmaChronicles
Instagram – instagram.com/miasmachron
Twitter – @MiasmaChron
Reddit – r/miasmachronicles
Discord – 505.games/MiasmaChroniclesDiscord
Miasma Chronicles is set to launch in 2023 | Wishlist today!